How To Get Leads, Subscribers, Traffic, And Sales With An Excellent Platform?
My main struggle when starting my online business was generating quality leads. Yes, you can buy leads, and if you find reputable sources, you can purchase good leads; however, in the early days of business, building these leads can create quite a hole in the pocket and cost more than you can afford to invest initially.

That certainly was my concern.
There are other ways of generating free leads, though this can be costly time-wise. For most of us starting online, I think it's fair to say that we want to see some early results. This encourages us that "this can work for us too!"
I can't even remember how I came across the ad for My Lead Gen Secret (MLGS) through one day at the end of last September, I did indeed come across the ad, and I watched the intro video with interest while reading the promo info.
Of no surprise, I'm sure; I had an open mind with a skeptical slant in case this was another "pie-in-the-sky-empty-promise" that emptied my pockets further! However, I found an introduction to a system that adopted a cost-effective way to gain leads interested in the MMO niches, which was ethical and legal.
Suppose you cast your mind to when you've submitted your name and email address for things you've been interested in or buying. In that case, you might remember that often there's another tick box asking you something like, "If you'd like to receive information from our carefully selected partners" or "If you'd like to learn about other money-making opportunities from our partners." If you tick this box to agree, you would have provided consent to receive further info from the vendor and their partners.
And these are the types of leads that My Lead Gen Secret can share cost-effectively. It made total sense to me, and I could see that I would be gaining leads that I could email in a can-spam-compliant way.
My Lead Gen Secret is billed every 30 days, thus helping to spread the cost. When I signed up with MLGS, I paid a one-off set-up fee of $30 and my first month's subscription of $30 in advance, so an initial cost of only $60. After this, my regular fee is $30 every 30 days.
For this, I receive 100 fresh leads to my account EVERY DAY! So for only $1, you're getting 100 leads! I can email my leads once daily (once every 23 hours, to be exact) using MLGS's own email system.
And added to this, the leads are also yours to download and add to your autoresponder.
There is only one optional upsell offer (for a one-off $59.95) to purchase the 'MLGS 30 Email Swipes', which you can tailor for any of your offers. This is great if you're not used to writing your own emails yet, and will give you ideas of the type of emails that convert. A worthwhile cost, I thought, to help me get started. I can re-use the emails any time I like and personalize them according to the offer.
Since then, I've emailed loads of my own emails. You'll find that many of the other affiliate programs you may want to promote will have their own email swipes to use. So, all in all, you'll really have a good toolbox of emails from which to use. Each email I've sent out via MLGS is stored in the system along with the continually updated stats, so you can revisit and see which emails have converted best over time.

The advantages offered by MLGS
I love that this is a very cost-effective way of generating quality Tier 1 (mainly USA) leads who have expressed interest in MMO and have given their consent to hearing from other parties, i.e., me in this case.

The 100 leads per day add up very quickly. And this number can be doubled to 200 leads per day if you obtain just one person to join the system underneath you!

Yes, MLGS also has its own affiliate program, which offers generous benefits:

In addition to the extra 100 leads daily (as long as you still have at least one referral member).
Receive $5/month on personal membership sales to customers who purchase directly from your affiliate link (Level 1).
Receive $4/month on your personally sponsored Affiliate's membership sales (Level 2), $3/month on the membership sales of the people they personally sponsor (Level 3), $2/month on Level 4, and $1/month on level 5.
Level 1: $5/month
Level 2: $4/month
Level 3: $3/month
Level 4: $2/month
Level 5: $1/month
One-time commissions are paid out on master swipe purchases at $5, $4, $3, $2, $1 (5 levels deep) on $29.95 pricing and $10, $8, $6, $4 & $2 (5 levels deep) on $59.95 pricing.
The commission will be accumulated until a gross amount of $30 is reached, then, it can be paid upon request via PayPal, Check, or Bitcoin.

Weekly Superstars Bonus Contest – Win an UNLIMITED Number of $100 Bonuses Each Week By Simply Referring FIVE New Confirmed Membership Sales in a 7-day Contest Period. There is no limit! Refer 25 new paid customers in one week, and you'll earn $500! (A "week" is defined as 12:00 Monday to 23:59 Sunday, Eastern Territory.)

You can download all the leads you generate through MLGS and add them to your own autoresponder. The downloads will show the first name, second name, email address, IP address, city, state, postal code, country, date added, and lead partner.
Some suggestions applied to MLGS
Check below how you can get income streams of $9,530 in 60 days!
And these are always increasing residual incomes that will come month after month.
What is the best place to get free traffic and leads for your offers?
Watch below a video with great information from a millionaire mom.
The default email address that your MLGS emails will be sent from will either be "Your Name" noreply@myleadgensecret.com or "My Lead Gen Secret" noreply@myleadgensecret.com – this makes the emails slightly impersonal, and in this regard, I always chose to send from the first email address which at least shows my first and last name. I also always make sure that each email I send has my regular sign-off and name.

The advantage of being able to download your leads, which are your own, is excellent. However, as I found out, to add them to my current autoresponder (I use two of the main ones out there), I could see that by importing the thousands of leads that I have, my cost with those respective autoresponders would skyrocket! And until I see enough regular income coming in, I'm not prepared to incur these costs.

If you're in a similar situation to me, my best suggestion is that you just continue emailing your MLGS list through their system every day (which won't cost you anything extra) until you're in a position to absorb the cost of a regular autoresponder (I'm currently trialing a new autoresponder that has no monthly fees and to which you can upload thousands of leads for a one-off fee. The system is fairly new and going through a few teething issues, which are being sorted out. Though I won't report on that until everything is working all tickety-boo!)
I like that I have gained tens of thousands of potential customers, numbers growing daily at such a low cost.
I can promote the MLGS system itself or any of the other affiliate programs that I endorse.
I can track the stats for each email I send.
I can download the leads I've generated and import them to another system of my choice.
What will you get if you patiently use this platform for at least one year?
See here a video with excellent explanations and information.
It's really a no-brainer. One-off setup fee, and then just $1 a day for 100 leads per day (200 per day if you have at least one referral still an active member).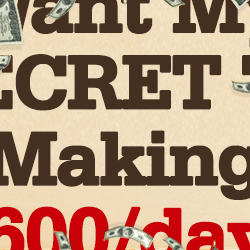 It a great way to build your list, promote yourself & earn income online. Everyone from newbies to experienced online marketers can benefit from the My Lead Gen Secret program. My experience so far has been a positive one.
It's definitely worth using MLGS for all the opportunities offered!
If you want more information, watch this video and see what other users say on this page (6,293 in 30 days).
Or, if you want, watch the video explanations and join MLGS.
See below what Deborah says about her experience.
"I run a small business online and have been trying unsuccessfully to market my products. Over the last 3 years, I have used pay-per-click advertising through Google, Facebook, Bing, and several other high-traffic sites to target my audience. The problem with these sites is that I do receive the clicks, but the conversion rate to sales is very low. Most of the clicks coming from these sites are people that only stay on my page for less than 30 seconds. I am charged for the click, but I don't make any money because they don't buy.
This has been frustrating, and it's been hard to keep my business running. I don't do any other marketing, so I rely on online pay per clicks and word of mouth to market my products. In March 2018, I decided to go a different route. I wanted a company that could screen leads that were genuinely interested not only in my products but also in buying them. Jim Harmon's My Lead Gen Secret was recommended to me, and I liked the ideas on their website. They were exactly what I was looking for.
Creating an account online was very easy, with no hidden setup costs. Every day I received 100 leads that were targeted to my niche. I was skeptical at first, but after a couple of weeks, I started to see these prospects start turning into buying customers! Since I have been working with My Lead Gen Secret, my business has turned around. My sales have shot up, and I am actually making income from my business instead of losing money…
I can't believe this service is offered for just $30 a month. During previous campaigns with Google and Facebook, I was going through about $500 a week on each site and making barely any sales. Because of this company and the leads that they provide, my business is now able to flourish.
If you need online marketing, do not waste your time with the big sites as I did. All they care about is getting your money, not getting you sales. Small companies like My Lead Gen Secret actually spend time screening the leads to make sure you have people clicking on your site who are actually interested in buying your product/service. I'm thrilled to have found this company, and I would recommend them to all!"
See below what Mark says.
"Is My Lead Gen Secret the real secret to making money online, as they proclaim on their website? Or is it just another internet scam to rip you off? Read on and make the decision for yourself.
My Lead Gen Secret is a lead generation system by Jim Harmon. The system gives you 100 to 200 leads every day for only $1 a day on complete autopilot.
It also integrates a free built-in email system inside where you can email your prospects every 23 hours. You can double your leads to 200 a day by referring at least one other person.
When you first start, you have to pay for the entire first month upfront plus a setup fee of $30. That means it's going to cost you $60 dollars to get started and $30 a month after your first month.
You can cancel at any time.

The MLGS Compensation plan gives you unlimited earning potential. Earn commission by selling MLGS memberships and master swipes to customers.
The MLGS Compensation plan allows Affiliates to achieve the highest levels of payment, FAST!
The built-in mailing system allows you to only send out emails once a day as a drawback, but you can import these contacts (All of them! ) to your very own autoresponder and send out your affiliate offer an unlimited time.
My Lead Gen Secret is an absolute MUST for any business owners, online marketers, entrepreneurs, and more!
With MLGS, you won't need a website, "paid traffic", or creating content. Everything is done for you already. They even have affiliate email swipes for you to import into the built-in mailing system.
I highly recommend this to all newbies and veteran marketers. You can scale your business or make your very first commission."
If you want more information, watch the video explanations and join MLGS.
Join MLGS, and you will get many other opportunities.
If you want to make this page known to your friends on social sites, use the buttons below. Thank you very much!