Few people want education, but almost everyone wants results!
One of the first things I noticed in marketing and sales is that almost no one wants to buy books and courses for their education.
People want to buy the FINAL RESULTS instead.
Almost no one wants to buy ebooks, courses, and seminars on financial education.
But most people want to have a fat account that makes them feel safe and financially free to travel, experience, and live life according to their own rules.
Almost no one wants to buy ebooks, courses, and seminars on happy relationships.
But most of them want to have a fulfilling relationship, feel that they have someone to share the joys and hardships of life with, feel passion and eroticism, start a family, feel that they are in a team with someone they love.
Almost no one wants ebooks, courses, and seminars on health.
But most people want to have energy, not visit hospitals, not swallow tons of pills, feel good and look good.
What is the conclusion?
People consider an ebook, a course, or a seminar to be AN OBSTACLE to their desires.
However, people buy books, courses, and seminars to achieve their desires and goals because there is no other way.
Here comes the mastery of an author.
The more I manage to turn this stage of education into a more pleasant and interesting one, the more the chances increase that a person will invest more in my products and me as an author.
Therefore, we can say that the products' scale is an educational journey in which we start with little effort and small investments, with a small or clear non-existent risk from the client, and then we increase the stake.
The more the client begins to appreciate what he receives and feels that he is guided correctly towards his dreams and goals, the more willing to invest.
And it makes sense.
How much is financial freedom worth to you?
What about health or happy relationships?
For most people, if they could afford it, they would pay any amount of money.
Teachers as superheroes
It was a day when the internet appeared, and that changed everything.
The most proactive and enterprising people in our society saw the opportunity and began to move everything that can be moved from offline to online.
Gone are the physical media and music, entertainment, products, shops, absolutely everything that could be moved, moved.
This bankrupted many businesses in the old system and gave rise to more enterprises.
It was only a matter of time before these very energetic entrepreneurs decided to move education to the online environment.
To have access to all the wisdom of humankind in front of your computer – what an incredible revolution.
It has been around 15 years since more and more information and education moved to the online environment, and this has led to a generation of people who have access to education relevant to their needs, having the opportunity to choose experts from whom to learn, with the latest discoveries, tools, and methods from around the world, have been able to evolve in a fraction of the time spent in the old educational system.
I became a student and a teacher in this new system.
Being an engineer by vocation, I took the most valuable skills and information from this new, very dynamic, rapidly evolving, and permanent online system, which asked me to adapt.
I learned from him how to make quality couple relationships, make a blog read, write professionally, and make a living from it. I ended up creating online education platforms and contributing to students' results at my turn.
And after all this time, the whole planet has stopped to reflect on a problem that this new system has and that I will recognize for the first time publicly here.

What the old educational system has in full and the new system does not have at all are…
TEACHERS
We invite you to register here and find out how you can do business with online courses, create a product, or get different types of products to make a profit from the first launch.
The new educational system was pushed before by entrepreneurs, not by teachers.
And it's normal to be like that. That's why he calls them entrepreneurs because they are the spearhead of innovation.
Entrepreneurs used the latest technology, freelance skills, investors began to pump money, and the most modern online course platforms appeared.
But which, after a while, turned out to be less than their true potential.
An online course platform is just a platform on which video, audio, and pdf materials are placed.
Great up here.
And from here, the elephant in the room.
Information is not education.
A minimal number of people are the right people in the right place and who, if they have the information, will do the job of self-education.
But most people seeing the promise of an online course from "How to make money and be free" to "how to fix your marriage," bought the courses and found that nothing changes, and they do not get the desired result.
Part of the blame is theirs because they didn't do their job.
Part of the blame is on the new online system that does not offer support.
Information is not education.
Information + support and support from a qualified person = the chance to develop from within and produce real transformations and the desired results.
That was the bad news and the new system's problem: there are no teachers to facilitate a real education process and acquire skills, but only the information platform, sometimes at a high price.
Good news?
The price of information, no matter how valuable it is, will fall.
The price of education, in which you will receive information PLUS teacher to facilitate and support you in your journey of becoming, will increase.
In the information paradigm – you are 100% responsible.
In the case of education, it is a partnership.
Education requires other resources. Teachers, support, follow up.
Are you a teacher?
You have the chance to recover everything you feel you ever deserved and did not receive from the old system:
Money, respect, fulfillment, and satisfaction in your work, the fruition of all your years of training and work.
Everything good in the old system needs to start a love story with everything good in the new system for this to happen.
If you want to discover all these things in detail, go to the course!
Experiential online courses – ideal in 2020.
Why, for any experienced or novice author today, the ideal product is given by an experiential course?
Such a course has the perfect balance between the following:
Production time
Customer results
Use of existing online applications
Reasonable price
The author's effort
Let's take them one at a time.
1. Production time.
In this new educational model, the courses are created according to the client's needs.
The fact that there are a Facebook group, live webinars, and very consistent communication between "teacher-student" tells us that from one lesson to another, the teacher can decide to adapt, to add, to extract content so that the student can reach the mode optimal result.
And that means you don't need to do pre-recorded materials (unless there are fixed, technical tutorials that don't change over time).
In 2019 I held 6 different experiential courses, and I did not create any materials before.
The first step was discussing the students and answering the session to determine the common denominator and start.
Before each live webinar, we prepared a PowerPoint presentation to keep the structure of the lesson of that day, and at the end of each webinar, there is a very consistent question and answer session.
So the most important work happens for about 2 hours in this live webinar.
Obviously, the author's experience also depends a lot. That is why the first edition of an experiential course is always the most expensive in terms of time and energy, followed by optimizations and improvements.
Compared to any other product on the product scale, this product time is the easiest to execute in terms of time.
2. Customer results
The key point of any educational product is the customer's result.
This is where the magic happens in an online course.
I noticed that even if the only thing a client does is to attend the course once a week, the person will progress.
We live in an age where people no longer trust that they can have resulted because they have bought too many books, courses and been to too many "transformational" events.
People are tired.
So in this kind of experiential course, the simple fact that you come to the course and watch as you can awaken energy gives you moments of AHA and questions from your colleagues. If you do an online business in partnership with some friends, it stimulates you too.
Even if you don't have time to deal with something in that week, I noticed that the people who attend the courses register progress and results, at their own pace, week by week.
Those who also deal with the weekly homework manage to perform.
3. Use existing free explanations
One of the basic tools in experiential online courses is the Facebook group.
It's free.
Everyone is on Facebook today.
You can put videos, mp3, or text in this private group, and you can attach files. You can do whatever you want.
Other than that, it works as a discussion forum (if you caught those times).
And you no longer need to have a password or username to log in to other platforms because you are already on Facebook.
Besides, there are a ton of free applications that can be used to create valuable content and deliver it:
Youtube

Vimeo
Instagram
WordPress
Elementor
4. Decent price
This way of working with live webinars, writing free content on social media and email, and then inviting people to a paid course has caused the price of such an experiential trip to fall. Although an experiential online course's value is much higher than an informational, such a course's price can be kept very decent.
Imagine that an experiential course allows the author and the client to be live simultaneously in a virtual space where the client can ask as many questions as he wants. The author answers them either in the live webinar or on the Facebook group.
Before communicating with the author, you had to be in a camp with him where he had transportation costs, accommodation, and the camp itself.
5. The author's effort
Given all the above, we can say that the author's effort decreases a lot.
Instead of dealing with programming and design, you now have applications and platforms that you can use for free.
Instead of moving to another physical place so that you can offer an interactive experience, today, you can spend that time educating yourself to offer a better experience in the virtual environment online.
Once you have the first edition of such a course, your structure remains, and you can only make optimization changes and the rest of the efforts to put them in marketing and sales for the next edition.
These 5 points are the ones that convinced us that this kind of experience, and experiential online course, is the best thing for the author and the client.
If you liked it, share all this with your friends on social networking sites, using the buttons below. Thank you.
For any online business, you need traffic and a list of subscribers. Without them, your business is dead.
Get 100 subscribers a day. Guaranteed! There is no trick. This is another opportunity that I use and achieve daily success is a compelling platform. I got a list of tens of thousands of followers I communicate with every day for 15 minutes. It is amazing.
See more explanations about this and join here. Many of them became my subscribers.
Everything is real and works very well. Register here.
Do you want to learn more for free?
Free Training Masterclass! Set up your first $1000 a month Sales Funnel… in 60 minutes, you get traffic to sell any product or service online… even if you are a complete 'technophobe'… have zero computer skills… no experience in sales or marketing… and without quitting your day job! Sign up here.
Another possibility for your business is, if you have built a website and want to get free traffic and subscribers, you can access this amazing opportunity here. It also offers many free opportunities to make money.
Or join this amazing platform. Here the whole global network will work for you.
Or,
With these 2 smart platforms, you will save time and money. Is completely free. Is amazing. Opportunity first (A fantastic girl!). Opportunity second (Smart guy!).
If nothing works for you and you need a change, I give you another great opportunity… sign up for free here on my site and I will send you free more information, advice, and assistance you need.
You can also visit the many opportunities displayed on the right side of this page at "Get Free Opportunities For Yourself". These are other sources of making money fast and very easily. Many of them offer free advertising.
Visit them and see which one suits you.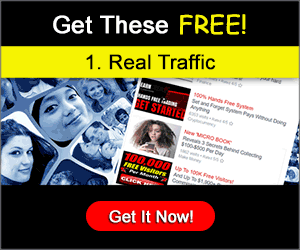 With enthusiasm, trust, and patience, you can build a successful online business alone or in partnership with a few friends.
If you want, subscribe with your friends, share all this with your friends on social sites, using the buttons below. Thank you.
P.S. Click on the images in the content of this article and read the pages of each product. If you like or want one of them, take it without hesitation. Start your business or add it to your online business.